Dacorum and District Riding Club
Due to the fact we have received notification of a confirmed case of EHV-1 in the Leverstock Green area, the DDRC committee has decided to cancel the DDRC show on 23rd May. We feel that due to the fact this is a highly contagious disease, we would not want to risk any horses/ponies attending our show potentially coming into contact with it. We have been advised that the horse in question has been isolated and is being treated accordingly by their vet. All entries already received for the May show will be transferred to the show to be held on 27th June in the first instance. If you cannot attend this show, please contact us and we will discuss alternative options for your entries with you.We look forward to seeing you in June.
What's new for 2021?
Not having run in 2020, here are the new things compared to 2019
Covid
Yes, I know we are all bored of the subject, but please spend 2 mins reading the rules for anyone coming to the next DDRC show.
More classes for the little ones
We have now two jumping classes for lead rein or ridden. There is a cross pole at 30cm and the Nursery stakes at 40cm. They run one after the other in ring 2. Classes 10 and 11.
These add to Class 17 – Young Handler. Class 31 – Horse and harmony. Class 34A – First Pony Lead rein and Class 36 – Blemishes don't count. All of which can be lead rein or accompanied by an adult.
Of course there is also the fun ring classes which start at 1pm in ring 6. These include
Prettiest Mare or Handsomest Gelding
Horse/Pony the Judge would most like to take home
Horse/Pony with the best mane & tail
Pony with most character
Handy Pony
Traditional Gypsy Cob Association – TGCA
Dacorum riding club is the only venue in Herts that you can qualify for the TGCA championships . We have three classes supporting this entry
Youngstock (Class 14), In Hand Cobs (Class 18),Ridden Cobs (Class 28)
Concours d'Elegance
What to see some fancy costumes or even join in yourself. Now is your chance. There are two classes, one traditional and the other for homemade costumes. In both classes you can be in-hand or ridden. Concours d'Elegance is to give a correct presentation for the chosen historical period. The picture created should represent history perhaps depicting a film, painting or period drama. Any historic/traditional period may be portrayed up to the 1950's.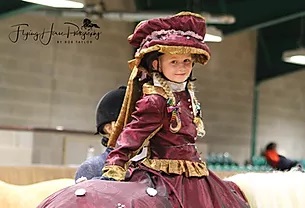 Please note that just like the little girl in the picture, you are required to ware a safety helmet/hat if you are riding (but not in in-hand). But just like the girl, there is nothing stopping you putting a pretty hat over the top!
Qualifiers
You can qualify for lots of shows around the country by coming to Dacorum. Each on has its own rules with a copy of the rules for each type available in this section.
Think Pink, Equifest, Sunshine Tour, HOPE, Equine sports UK, The showing Register, Royal London Show, TGCA, Concours d'Elegance.
Horse Show Dates for 2021:
May 23rd
June 27th
July 25th
August 15th
September 12th
All about Dacorum
We are a local grassroots riding club based in Hertfordshire with a big heart, catering to all abilities from tiny tots on lead reins to those more experienced competitors. With several rings to watch or compete in including: 2 rings of show jumping from cross poles to 1m, Intro and Prelim Dressage, in hand and ridden showing, a clear round jumping ring and an additional ring with a few new, fun classes, you will not be bored. We encourage anybody to come to the club and join in.
We are based just outside Hemel Hempstead, Hertfordshire in several acres of grassland within easy access from the M1/M25.
We run 5 unaffiliated Horse shows during the summer which are open to both members and non-members and so try to help competitors get on to the first rung of the ladder.
Many of the classes we hold are qualifiers for the Hickstead Sunshine Tour, ESUK Championships, Royal London Show, Equifest and many more.
Members do get a better price for entry fees as well as the chance to enter our end of year championship. For more info on membership please visit the membership page.
If you are new to jumping/showing or dressage then visit this page. We have written down some tips to make your day more enjoyable.
If you need any more information please use the contact us page.